Product Description
This 8' long Cargo Rack for the Ford Transit Connect has seven 53" cross supports with a 250 lb. load rating and must be installed with mounting channels (sold separately). This is the only van rack completely fabricated first and then hot dip galvanized for a rust free abrasive resistant finish on every cut end, weld and inch of the rack. And this rack doesn't end with the finish. Each rack includes completely welded side trusses made from 1 1∕4" and 3∕4" 14 ga steel tubing and solid 1∕4" steel rod. Cross supports are 1 1∕4" 13 ga round tube. Topper's patented mounting system allows you to use 100% of the available roof space on your van. All racks feature closely spaced cross supports that allow you to carry shorter loads or loads that have a tendency to sag like plywood or sheetrock. To complete your rack add a side mount conduit holder for carrying full lengths of tubing.
MOUNTING TO YOUR VAN: This Topper Cargo Rack mounts to mounting channels on your roof (as seen in the picture below) that are required and can be purchased separately above if your vehicle did not come with them already installed.
Occasionally, due to changes in aerodynamics caused by the installation of ladder racks, some vibration may occur. This can happen with any ladder rack and is not predictable. If you experience this problem, installing the optional Wind Deflector and slightly re-positioning the rack on your vehicle should help eliminate the vibration.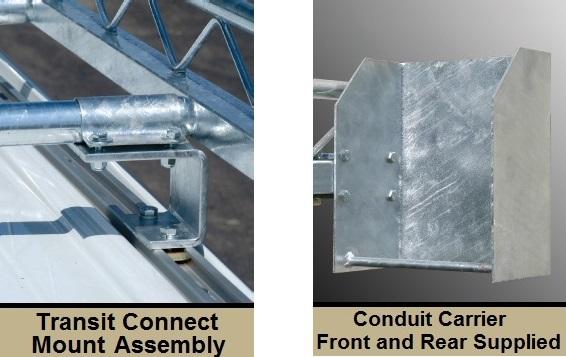 Additional Information
| | |
| --- | --- |
| Model | CC-CONNECT |
| Metal | Steel |
| Vehicle Make | Ford E-Series |
Product Tags
Add Your Tags:
Use spaces to separate tags. Use single quotes (') for phrases.