Product Description
Cast Aluminum Housing
Compatible for 12/24VDC
30,000 Hour LED Life Span!
These super bright LED Work Flood Lights mount just about anywhere on your vehicle and are ideal for on the job use with their superior performance and compact size. Constructed with a powder coated cast aluminum housing, Cree brand LED's and tempered glass lenses these lights have earned a IP67 certification. Housings have large cooling ribs for optimized heat distribution, are shock-proof, waterproof and suitable for rough conditions. Lights are available with light output ratings of either 900 or 1400 lumens. The SY2X2 is a 900 lumen light with a head measuring 2.6"W x 2.6"H x 2.5"D. The SYLED1400 is a 1400 lumen light and measures 4.3"W x 4.3"H x 2.4"D. Can be pedestal or surfaced mounted with supplied Stainless Steel hardware. Lights carry a full two year warranty.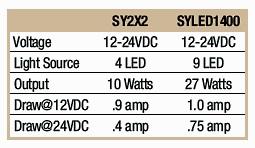 Product Tags
Add Your Tags:
Use spaces to separate tags. Use single quotes (') for phrases.